As National Farmers Market Week comes to an end, I want to give one last giant THANK YOU to our amazing customers at the GVFM. This year has been one of our biggest yet, seeing nearly 3,000 of you every weekend! Each Saturday, you all bring such a kind, caring and supportive energy to the market, making it not only a place of monetary support, but a place of true community togetherness. I have deeply enjoyed getting to make connections with hundreds of you and have loved helping you connect with other members of our community even more.
Last Saturday during our market, I asked customers to answer a simple question: "I love the Gallatin Valley Farmers market because…" and these are some of my favorite answers!
"I love the farmers market because it supports local businesses and farms, the food is fresh and the atmosphere is wholesome."

"I love supporting and connecting with my community."

"Fresh flowers and friendly faces."

"All the friendly smiles."
The words "People," "Community," and "Fresh Food," came up the most in the 55 answers we received. I think that is so special!
Not only does your support create a cheerful market environment, but your informed choice to buy local generated about $1.5 million in revenue last year, as recorded by the Bureau of Business and Economic Research (BBER). Given the growth I have seen in our market this season, I can only assume this number will continue to increase. In Montana as a whole,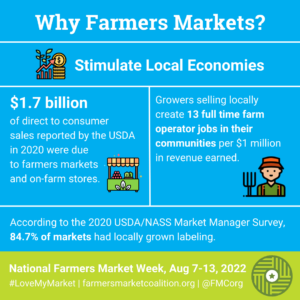 customers spent a total of $16.86 million at 71 farmers markets across the state last year, making a substantial contribution to the Montana economy. From the bottom of my heart, and I know the hearts of our local vendors, thank you for continuing to support your local farmers, chefs, artisans, and all the local vendors in-between.
Below is the link where you can view all the findings from "Sustaining Farmers Market Success: The Economic Contributions of Farmers Markets in Montana," published earlier this year.
Sustaining Farmers Market Success: The Economic Contributions of Farmers Markets in Montana
See you next Saturday where we can all continue to support our Gallatin Valley Farmers' Market!