August 1st – 7th Marks the 22nd Annual National Farmers Market Week Organized by the Farmers Market Coalition!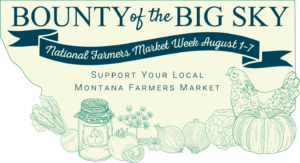 This year, NFMW is celebrating farmers markets everywhere by highlighting their resilience and the essential role the play in their communities. As hubs for connection and togetherness, farmers markets have particularly risen to the occasion this year by providing a necessary sense of unity and stability during a time of great uncertainty. For this reason and many more, farmers markets have always been essential. They bring communities together with nutritious food, support the livelihoods of local farmers and artisans, contribute to the wellbeing of our planet, and so much more.
Specifically, the GVFM prides itself on its ability to act as a safe starting point for beginning businesses. By offering affordable spaces to new vendors, the GVFM can stay true to its mission in supporting individuals who hope to find self sufficiency through self owned business. The GVFM currently supports about 100 vendors every Saturday! That's a lot of small businesses using farmers markets as an outlet to reach customers.
Despite all the challenges this last year has brought us, our customers and vendors continue to show up and support our market. We are so grateful for them…FOR YOU! For 50 years, the GVFM has been a cornerstone to the Bozeman area, and we cannot wait to share another 50 more with our customers, our vendors and our neighbors.
We hope to see you all on Saturday, August 7th at the Gallatin County Fairgrounds from 9 am to noon! At this special market event, we will live music, mini ponies, flathead cherries, huckleberries, a plethora of new and fresh produce, all your favorite artists and more! Don't forget to purchase your raffle tickets for your chance to win a goodie basket filled to the brim with homemade creations valued at over $1000! Visit our "Featured Vendor Raffle Page,' to learn more, or stop by the market booth at the entrance to the pavilion this Saturday!
Make handmade.
Give handmade.
Buy handmade.
Live Handmade.